ADHD Therapist in NYC
Have you or your teen been diagnosed with attention-deficit/hyperactivity disorder (ADHD)? Or are you grappling with symptoms that align with ADHD and looking for a roadmap to move forward? ADHD is a complex diagnosis that can be related to a number of other mental health challenges that affect attention. At Madison Park Psychological Services, our therapists are trained in the complex ways that ADHD can present. Further, they are trained in the type of detailed assessments and psychological services required for an accurate diagnosis. We offer therapy, including executive functioning support for teens and adults living with ADHD and other associated mental health challenges. Our ADHD assessment services are conducted in person at our NYC office, and our therapy services are conducted online via teletherapy.
If you or someone in your family is struggling with ADHD or searching for answers, we are here to help.
Read on to learn more about ADHD and how our team can support you.
Ready to work with us?  Contact us to book a consultation.
What is ADHD?
Attention-deficit/hyperactivity disorder (also known as ADHD) is a developmental disorder that affects your ability to self-regulate in many domains including attention, emotions, and behavior.  It is marked by persistent inattention and/or impulsivity-hyperactivity that interferes with everyday tasks, relationships, and functioning.
What is an ADHD Therapist?
ADHD therapists are counselors with the knowledge, experience, and competency to support patients with ADHD.  They can help you explore and clarify your symptoms , develop a personalized treatment plan, and offer practical coping strategies.  Research has shown that the more environmental support a person with ADHD has, the more symptom relief people experience. Our therapists are well versed in diagnosing, treating and securing school support for individuals with ADHD. They are also highly competent in executive function support for both the individual with ADHD and their family, an essential component.
Some ADHD therapists might be qualified to perform psychological assessments to determine whether you are living with ADHD or other condition(s). ADHD-like symptoms are complex and should be evaluated by a professional well versed in the various comorbidities that affect attention. A thorough evaluation might include assessment of memory, mood, anxiety, attachment, learning differences and family systems. Often, these domains are assessed differently in different age groups. Only through careful consideration can an accurate diagnosis and treatment plan be developed. 
Who Can Benefit From ADHD Therapy?
Both children and adults can benefit from ADHD therapy. ADHD therapy at MPPS is tailored to the specific ADHD type and symptoms that the individual is experiencing, the real world effect of these symptoms and the types of supports needed. For example, children may need letters written in order to support the acquisition of a 504 or Individual Education Plan (IEP). Adults may require a detailed analysis of strengths and weaknesses in order to provide cognitive strategies, executive functioning support and relationship guidance.
If you or your loved ones have been diagnosed or are experiencing signs of ADHD, you can benefit from behavioral therapy.  ADHD therapy is an effective treatment that offers insight, support, and skills to help you manage your symptoms, heal, and grow. This therapy can support medication management or replace it as we collaborate with psychiatry to support your needs and goals.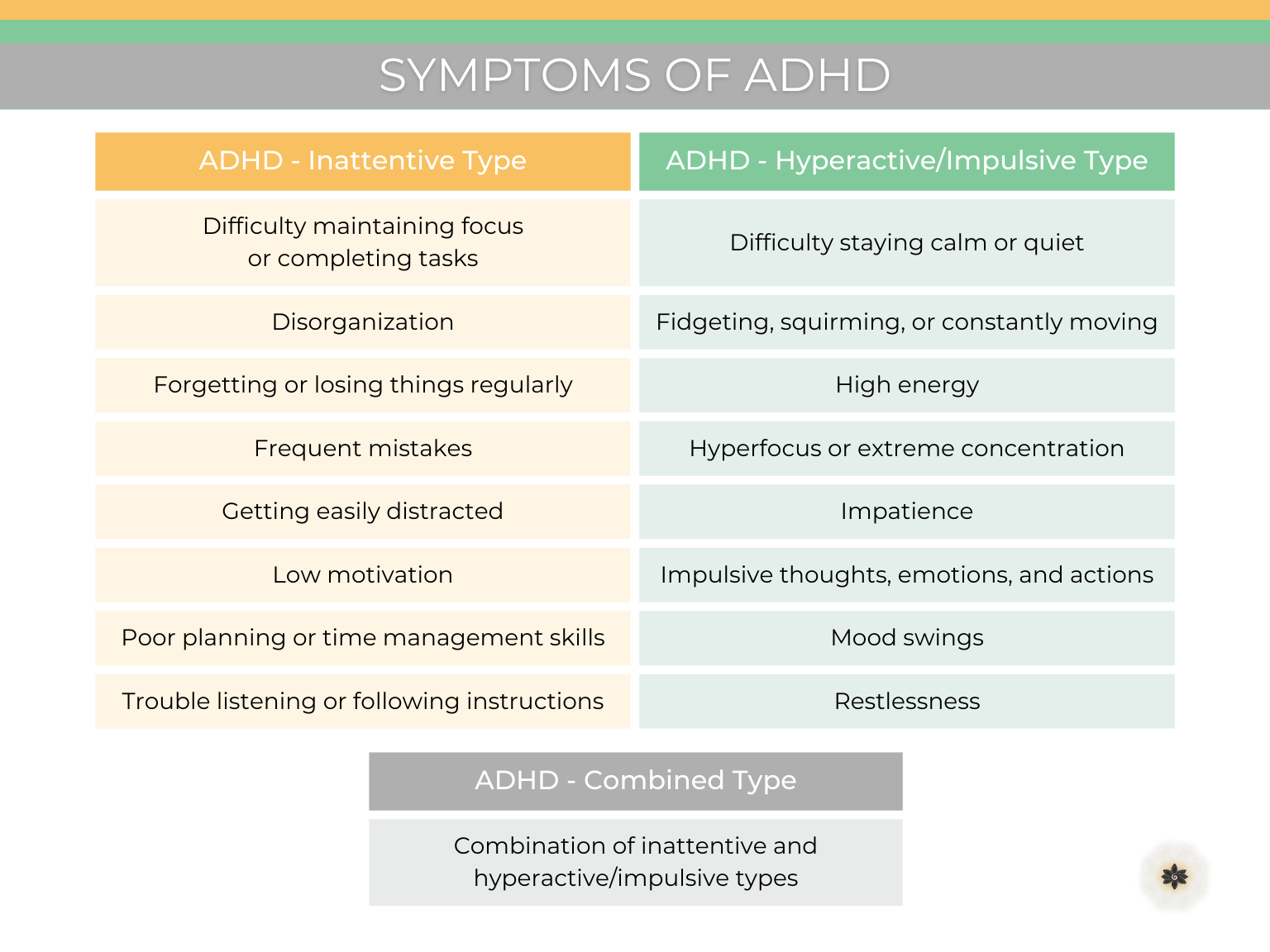 ADHD – Inattentive Type
Difficulty maintaining focus or completing tasks

Disorganization

Forgetting or losing things regularly

Frequent mistakes

Getting easily distracted

Low motivation

Poor planning or time management skills

Trouble listening or following instructions
ADHD – Hyperactive/Impulsive

 

Type
Difficulty staying calm or quiet

Fidgeting, squirming, or constantly moving

High energy

Hyperfocus or extreme concentration

Impatience

Impulsive thoughts, emotions, and actions

Mood swings

Restlessness
ADHD – Combined Type
A combination of symptoms between the inattentive and hyperactive/impulsive types.
Want to learn more about ADHD therapy and how it can help ease these symptoms?  Reach out to us with your questions.
Our ADHD Therapists in New York City
Our staff includes therapists specializing in ADHD assessment and treatment for teens and adults of diverse backgrounds, cultures, and identities.
Check out the bios below to learn more about their story, experience, and therapeutic approach.  If you find a therapist who resonates with you, book an appointment with them today.
Types of Therapy Our

 

ADHD

 
Therapists Provide
Our ADHD therapists provide different psychotherapy methods, including:
Executive Function Coaching
Understand and learn to work with the "manager" of your brain- your executive functioning system- to help you better regulate, modulate and organize yourself across experiences and activities.
Cognitive-Behavioral Therapy (CBT)
Understand how your thoughts, feelings, and behaviors interact with one another to challenge negative patterns and adopt effective coping mechanisms.
Dialectical-Behavioral Therapy (DBT)
Integrate CBT with core skills to embrace the present moment, control your emotions, manage distress, and enhance your interpersonal abilities.
Acceptance and Commitment Therapy (ACT)
Foster acceptance and commit to mindful, value-based activities to increase your psychological flexibility and navigate hardship.
Psychodynamic Therapy
Gain deep insight into your emotions, experiences, and subconscious processes to make informed decisions, improve your relationships, and achieve your goals.
Holistic/Body-Mind-Spirit Therapy
Explore the connection between your physical, mental, and spiritual health to cultivate awareness and address your issues in a wholesome way.  
Book an Appointment With One of Our ADHD Therapists Today!
Got any questions about our ADHD therapists?  Call 212-506-5935 or reach out to us.
Ready to get started?  Schedule an appointment with an ADHD therapist today.
Call or Email to Book an Appointment Today!
We'll design an effective, individually tailored treatment to help you reach optimal health and well-being.