Korean Speaking Therapists in NYC
Korean Speaking Therapists in NYC
Seeking mental health care may pose a series of challenges, especially for Asians and Asian Americans.
You may be scared of opening up, notice a shortage of Asian therapists, or face financial struggles that prevent you from accessing treatment.  Not to mention the stigma related to psychological conditions that may have been present in your community for decades.
But what happens when you add language barriers into the mix?
Seeing a therapist who doesn't speak your first language can affect treatment quality, progress, and outcomes.  You might feel ashamed or unsure about what you are trying to articulate because your English is not "perfect."  Perhaps you get stuck trying to find the right words or become discouraged when you realize your therapist is not following you.
At Madison Park Psychological Services, we want to make therapy a safe and easy process for teens and adults in NYC, removing as many obstacles as possible to ensure they get exceptional care.  That's why we have built a multicultural team of therapists who speak various languages, including Korean.
If you are looking for a Korean speaking therapist who is fluent in your mother tongue and understands your experiences as a Korean or Korean American, we can help.
Read below or contact us to learn more about our therapists and how they can support you.
Ready to begin your therapy journey?  Book a consultation with one of our Korean speaking therapists today.
Our
Korean Speaking Therapists
Based in New York City
Koreans, Korean Americans, and other Asian individuals may go through similar mental health challenges as other U.S. populations—including stress, anxiety, and depression.  However, they may experience additional hardship, including the recent rise of Asian hate and racism, immigration difficulties, intergenerational trauma, rigorous family expectations, and viewing mental health as taboo.
At Madison Park Psychological Services, we house Asian and Asian American counselors who provide culturally responsive care in English, Korean, Arabic, Mandarin, and other languages.  Our Korean speaking therapists speak native Korean and have deep knowledge of Korean culture and common issues faced in the community.
There's nothing wrong with doing therapy in English as your second language.  Yet, doing it in your native tongue can support you to feel more comfortable and communicate effectively without switching to your "English-speaking" voice.  It empowers you to be your most authentic self and develop a strong connection with your therapist while lowering the risk of confusion, miscommunication, or vocabulary roadblocks.
We aim to make this a safe haven to explore and embrace who you are on your road to healing.  And we know that being able to express yourself in your language is a big part of that.
Anxiety
Constant worry, intrusive thoughts, irritability, and rapid heart rate are some of the debilitating signs of unhealthy anxiety—which can turn into a vicious cycle if not treated.  Anxiety therapy can help you become aware of your symptoms and their roots and develop effective coping mechanisms to reclaim your life.
 Panic Attacks
Panic attacks can impact anyone, anytime, due to a distressing event, as a symptom of another condition, or have no evident cause.  Therapy can support you in navigating these terrifying episodes and where they might come from to improve your well-being.
 Depression
Depression may deplete your mental, emotional, and physical health to the core, affecting your relationships, daily activities, and sense of meaning.  Our therapists can guide you to rediscover your light, compassion, and self-worth to find purpose and adopt healthier habits.
Relationship Problems
Whether you want to mend, strengthen, or build your relationship with a partner, family member, colleague, or friend, therapy can help.  We'll foster trust, intimacy, communication, and other relational skills to address challenges, nurture your bonds, and make new connections.
Obsessive-Compulsive Disorder (OCD)
Experiencing OCD is more complex than being nit-picky or checking things twice.  It involves obsessing over anxious thoughts and performing repetitive behaviors to find (temporary) solace, which feeds a harmful pattern.  Let's work together to examine your symptoms, safely confront your triggers, and reduce compulsions.
Trauma and Post-Traumatic Stress Disorder (PTSD)
Emotional wounds from ongoing or past situations may leave lingering distress on your well-being.  Trauma therapy can assist you in unraveling, understanding, and healing from unresolved pain so you can achieve inner peace.
Types of Therapy our Korean Speaking Therapists Provide
We have built a talented team of licensed professional counselors specializing in various therapy methods.
Our priority is to identify the therapist and modality(ies) that will better support you according to your condition, background, values, and preferences.
Our Korean speaking therapists provide different types of therapy, including: 
Cognitive-Behavioral Therapy (CBT)
Cognitive-Behavioral Therapy examines how your thoughts, emotions, and behaviors influence one another.  The goal is to pinpoint, challenge, and replace distorted lines of thinking with helpful ones.  This will encourage you to shift damaging patterns and relieve your symptoms.
Dialectical-Behavioral Therapy (DBT)
Dialectical-Behavioral Therapy can help you manage stress, anxiety, depression, relationship issues, and other mental health problems.  The purpose is to combine CBT principles with four core skills (mindfulness, distress tolerance, emotion regulation, and interpersonal effectiveness) to handle hardship and equip you with practical tools.
Acceptance and Commitment Therapy (ACT)
Acceptance and Commitment Therapy focuses on six therapeutic processes to navigate challenges and build a wholesome life.  These include: 1) developing acceptance, 2) separating yourself from your thoughts and feelings, 3) embracing the present, 4) playing the role of the "observer," 5) defining your values, and 6) taking committed action.
Psychodynamic Therapy
Psychodynamic therapy shines a light on the hidden corners of yourself to uncover the root of your problems and any related patterns to attain relief.  You will gain valuable knowledge about yourself, your subconscious, past, needs, and wants, to manage your concerns and make better decisions for your well-being.
Holistic/Body-Mind-Spirit Therapy
Holistic therapy strives to treat your whole self (body, mind, spirit), analyzing how each part affects the other and finding integrative strategies to support you.  We will work on your awareness, acceptance, and actualization to tune into your strengths and achieve your goals.
Working With Our Korean Speaking Therapists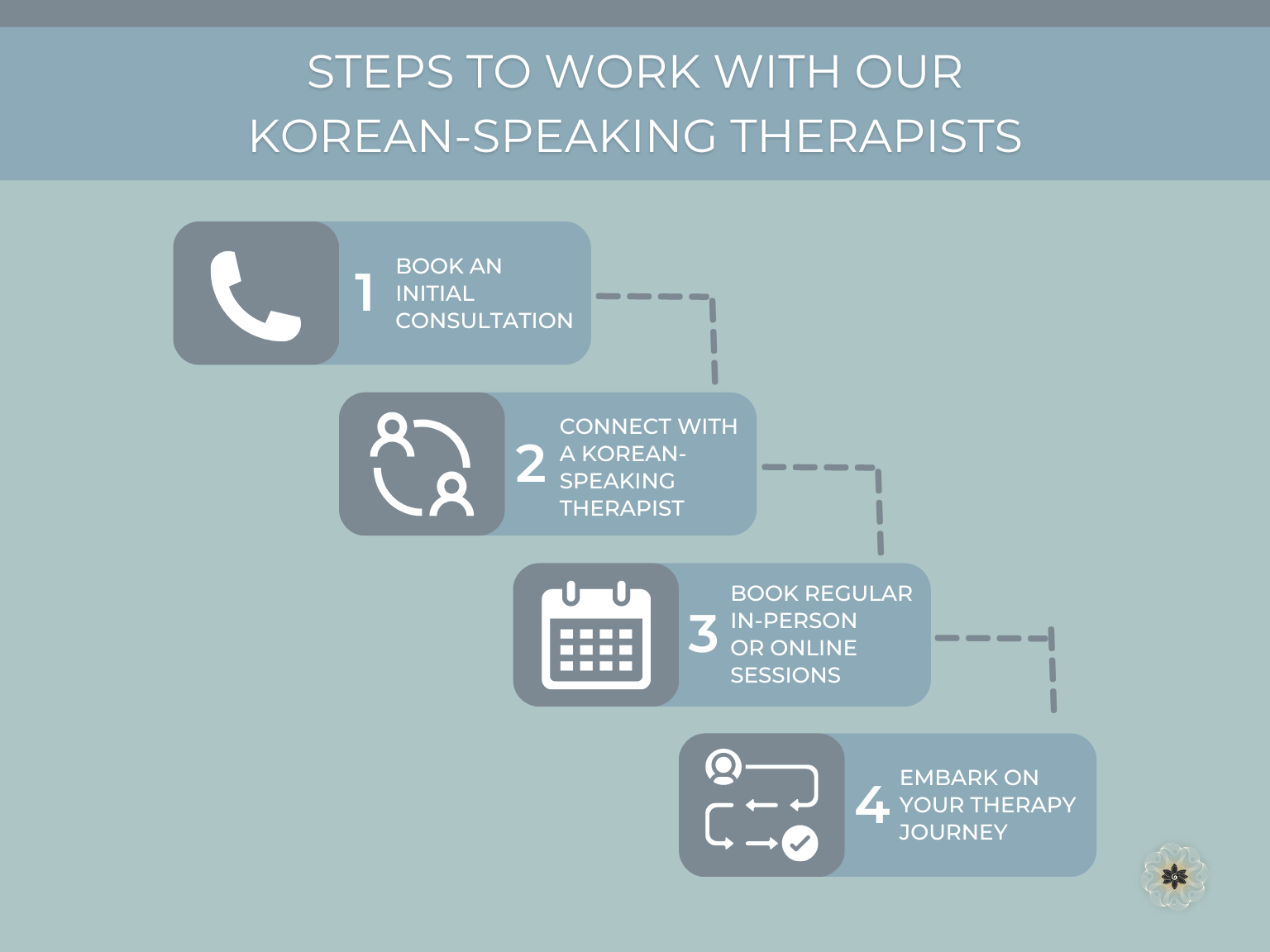 Our Korean speaking counselors offer individual, couple, family, and group therapy to Korean speaking teens and adults living in NYC and across New York via teletherapy.  They also conduct assessments to check your mental health functioning and prepare a roadmap for treatment.
First, you can book an initial consultation to talk about your concerns and what you are looking for in therapy.  We will describe our services, process, and rates, giving you all the details you need to make an informed decision about treatment. 
If our counseling center is a good fit for you or your loved one, we will connect you with a Korean speaking therapist that matches your background and needs.
Then, we will book regular in-person or online sessions, depending on what works for you.  Your Korean speaking therapist will be there to listen, facilitate conversations, and provide insight and tools for sustained wellness.
Book an Appointment with One of Our Korean Speaking Therapists Today
If you want to work with a therapist who speaks Korean and is culturally competent to treat Asian or Asian American individuals, look no further.
Contact us for more information about our Korean speaking therapists and the services we offer.
Ready for therapy?  Call 212-506-5935 or book an appointment and start healing today.
Call or Email to Book an Appointment with a Korean Speaking Therapist Today!
We'll design an effective, individually tailored treatment to help you reach optimal health and well-being.