Clinical Therapist in NYC
Clinical Therapist in NYC
Are you looking for an experienced clinician to support your mental health journey?
You might be browsing for a therapist for the first time, wondering what to focus your search on.  Maybe you've tried therapy before but didn't reach the results you were hoping for.  Or you might be interested in a different approach that better adapts to your personality and outlook.
Whatever brought you to our door, we are glad you are here.
At Madison Park Psychological Services, we know how paramount it is to establish a solid bond with a counselor who has the expertise, drive, and cultural fluency to help you.  Our clinical psychologists have vast knowledge, rigorous training, and cultural competency to support teens and adults in NYC with a wide range of services and challenges.
Scroll down to meet our clinical therapists and learn how they can help you. 
Got questions?  Contact us, and we'd be happy to assist you!
Our Clinical Therapists in New York City
We house mental health professionals with specific training and education requirements who represent the multicultural population of New York City.  They all have a Ph.D. (doctoral degree in philosophy with a specialization in clinical psychology) or Psy.D. (doctoral degree in psychology), with at least five years of working experience.
Click on the below profiles to read more about our team, their clinical therapy background, their approach, and how they can help you achieve your goals.
Conditions Treated by Our Clinical Therapists
Our clinical therapists will help you navigate different mental health issues, including:
Anxiety
Are you worried, overwhelmed, or irritable?  Or having trouble focusing, relaxing, or sleeping?  You might be experiencing anxiety, which is extremely common and debilitating yet treatable.  Let's uncover the root of your symptoms and find peace of mind.
 Panic Attacks
Panic attacks are severe, disarming, and frightening events that may be related to other mental health concerns or medical conditions.  Our team can help you understand the underlying implications of these scary experiences and develop skills to manage them.
 Depression
More than the occasional blues, depression may hinder your ability to work, study, interact, or perform daily activities.  Therapy can support you to foster hope, self-worth, and kindness to realign with your purpose and deepen your relationships.
Relationship Problems
Trust, connection, and communication are the keys to a strong and sustainable relationship.  Let's build or enhance these valuable skills to address conflicts, set proper boundaries, and strengthen your bonds.
Obsessive-Compulsive Disorder (OCD)
If obsessive thoughts are provoking suffering and compulsive behaviors to attain (fleeting) relief, you may be struggling with OCD.  We'll collaborate to help you safely face your triggers, reduce compulsions, and adopt healthier coping mechanisms.
Trauma and Post-Traumatic Stress Disorder (PTSD)
If you've been carrying the emotional and physical pain from a loss, accident, abuse, or other devastating experiences, we are here for you.  Trauma therapy supports you to understand, reframe, and process these unresolved events to heal your wounds and find a way forward.
Types of Therapy Our Clinical Therapists Provide
Our clinical therapists implement various modalities, such as:
Cognitive-Behavioral Therapy (CBT)
Explore the threads connecting your thoughts, emotions, and behaviors to shift damaging patterns and embrace effective habits to heal and thrive.
Dialectical-Behavioral Therapy (DBT)
Combine CBT with mindfulness, distress tolerance, emotional regulation, and interpersonal effectiveness to address your challenges and improve your quality of life.
Acceptance and Commitment Therapy (ACT)
Enhance your psychological flexibility by cultivating acceptance and mindfulness, observing and separating yourself from your thoughts and feelings, and engaging in value-based actions.
Psychodynamic Therapy
Travel through your subconscious layers and past events to recognize the core of your issues, work through repressed emotions, and learn practical coping mechanisms.
Holistic/Body-Mind-Spirit Therapy
Understand and accept how your mind, body, and spirit impact one another to welcome your full self and take the next steps in your wellness journey.
Working With Our Clinical Therapists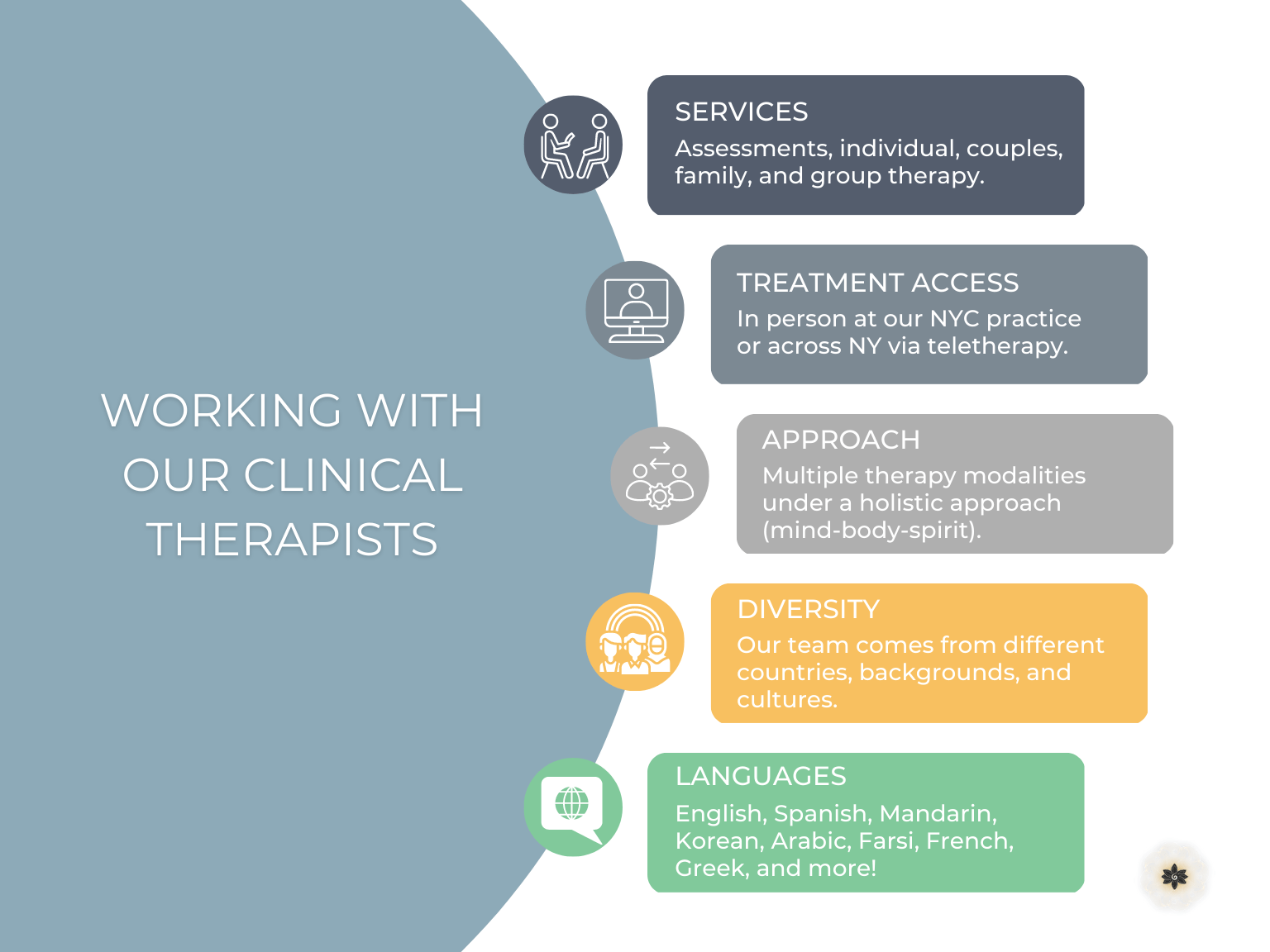 Our clinical therapists offer psychological assessments, individual therapy, couples therapy, family therapy, and group therapy to individuals in person at our NYC private practice or across New York via teletherapy.
While each clinician is certified and trained in specific modalities, they all follow an overarching holistic approach.  We see you as a whole being with dimensions and complexities that interconnect and impact your well-being.
We also value your cultural experiences, heritage, and beliefs and strive to open a space where you are free to be vulnerable without the burden of educating your therapist.  We provide therapy in English, Spanish, Mandarin, Korean, Arabic, Farsi, French, Greek, and other languages so you can receive treatment in your mother tongue if desired.  Our team comes from different backgrounds and cultures that may be similar to yours, yet we'll never presume to have walked the same path and will always celebrate your uniqueness.
To work with one of our clinical therapists, reach out for an initial consultation.  If you believe you have already found a therapist you connected with within our bios, we'll pair you up with them.  If not, we'll discuss your needs and preferences and find a counselor that best suits you.
Book an Appointment With One of Our Clinical Therapists Today!
Call 212-506-5935 or contact us to learn more about our clinical therapists.
Want to work with us?  Schedule an appointment with one of our clinical therapists today!
Call or Email to Book an Appointment Today!
We'll design an effective, individually tailored treatment to help you reach optimal health and well-being.