The Best Psychologists in NYC
Madison Park Offers the Best Psychologists in NYC
Who's the best psychologist for you?
Someone who fits. 
Your relationship with your therapist is vital to reach your treatment goals.
At Madison Park Psychological Services, we are committed to staffing the best psychologists in New York City to ensure you work with someone who gets you—your story, identity, language, and preferences.  Our therapists are equipped with evidence-based knowledge about your concerns, trained in modalities that suit you, and culturally competent to validate your lived experiences.
Reach out to find the right psychologist for you, your friends, and family.
Looking for the Best Clinical Psychologists in NYC?  Look No Further!
Whether you want to change therapists or consider going to therapy for the first time, you are home.
At Madison Park Psychological Services, we have a qualified team of multicultural psychologists serving teens and adults in NYC (and all across NY via teletherapy).  We have experience with a wide range of services, conditions, and communities and integrate various types of therapy depending on your case and objectives.
If you are unsure about what kind of support you need or what approach or therapist would serve you, we can help.
Conditions Treated by Our Best Psychologists NYC
Our therapists can support you with many mental health concerns, including the following specialties:
Anxiety
Anxiety might take over your mind and body, consuming your days and nights.  You might feel so worried and restless in bed that you lose sleep, and wake up so tired and irritable that you can't focus at work or school.  So the cycle continues.  Therapy can help you break free from this debilitating spiral and develop healthy coping mechanisms to carry on.
 Panic Attacks
Have you felt a rush of panic so strong that you thought you were about to pass out or worse?  You are not alone.  Panic attacks are common terrifying experiences that affect your physical and mental well-being.  Let's work together to uncover what's behind these episodes and find strategies to address them.
 Depression
If you are struggling with your self-worth or feeling helpless, fatigued, and unmotivated to do the things you used to enjoy, you might be experiencing depression.  While the pain of depression can run deep, it's manageable with professional support.  Therapy provides a haven to feel understood, explore your thoughts and emotions, and reconnect with hope for a purposeful life. 
Relationship Problems
Every bond faces hardship.  Whether you are having trouble communicating with your family, being intimate with your partner, or trusting new people, therapy can assist you.  We'll examine the beliefs, patterns, and experiences affecting your relationships and equip you with insight and tools to repair or strengthen them.
Obsessive-Compulsive Disorder (OCD)
OCD is much more than being extra tidy or inclined to check things twice.  It involves obsessive thoughts that lead to compulsive behaviors to reduce distress.  However, those actions may only bring temporary relief, thus sparking a vicious loop.  Therapy can gently expose you to triggers to alleviate your compulsions and help you navigate your symptoms.
Trauma and Post-Traumatic Stress Disorder (PTSD)
If you've been carrying the emotional and physical pain from a loss, accident, abuse, or other devastating experiences, we are here for you.  Trauma therapy supports you to understand, reframe, and process these unresolved events to heal your wounds and find a way forward.
Types of Therapy Our Best Psychologists in NYC Provide
Our psychologists are trained to offer multiple therapy methods, such as:
Cognitive-Behavioral Therapy (CBT)
Discover the link between your thoughts, emotions, and behaviors to learn more about yourself and unlearn unhelpful patterns.  You'll build new habits, adopt effective coping strategies, and create meaningful changes in your life.
Dialectical-Behavioral Therapy (DBT)
Dialectical-Behavioral Therapy can help you observe yourself and your environment, manage your distress and emotions, and enhance your interactions.  You'll develop confidence, compassion, and skills to handle your concerns and accomplish your goals.
Acceptance and Commitment Therapy (ACT)
Acceptance and Commitment Therapy supports you to accept your reality, separate yourself from damaging narratives, and commit to mindful and value-based actions.  You'll become more resilient and flexible to deal with anger management issues, anxiety, depression, stress, and other difficulties while shifting damaging behaviors.
Psychodynamic Therapy
Explore your subconscious mind, experiences, and struggles to pinpoint patterns and understand how they might have impacted your journey.  We'll collaborate to tend to past wounds, solve ongoing conflicts, and teach you coping techniques to address future challenges.
Holistic/Body-Mind-Spirit Therapy
Looking for an integrative way to improve your well-being?  Holistic Therapy focuses on understanding how all your puzzle pieces come together (mind, body, and spirit).  We'll encourage awareness of your entire self, acceptance of what is, and actualization of your plans.
Why Our NYC Psychologists Are the Best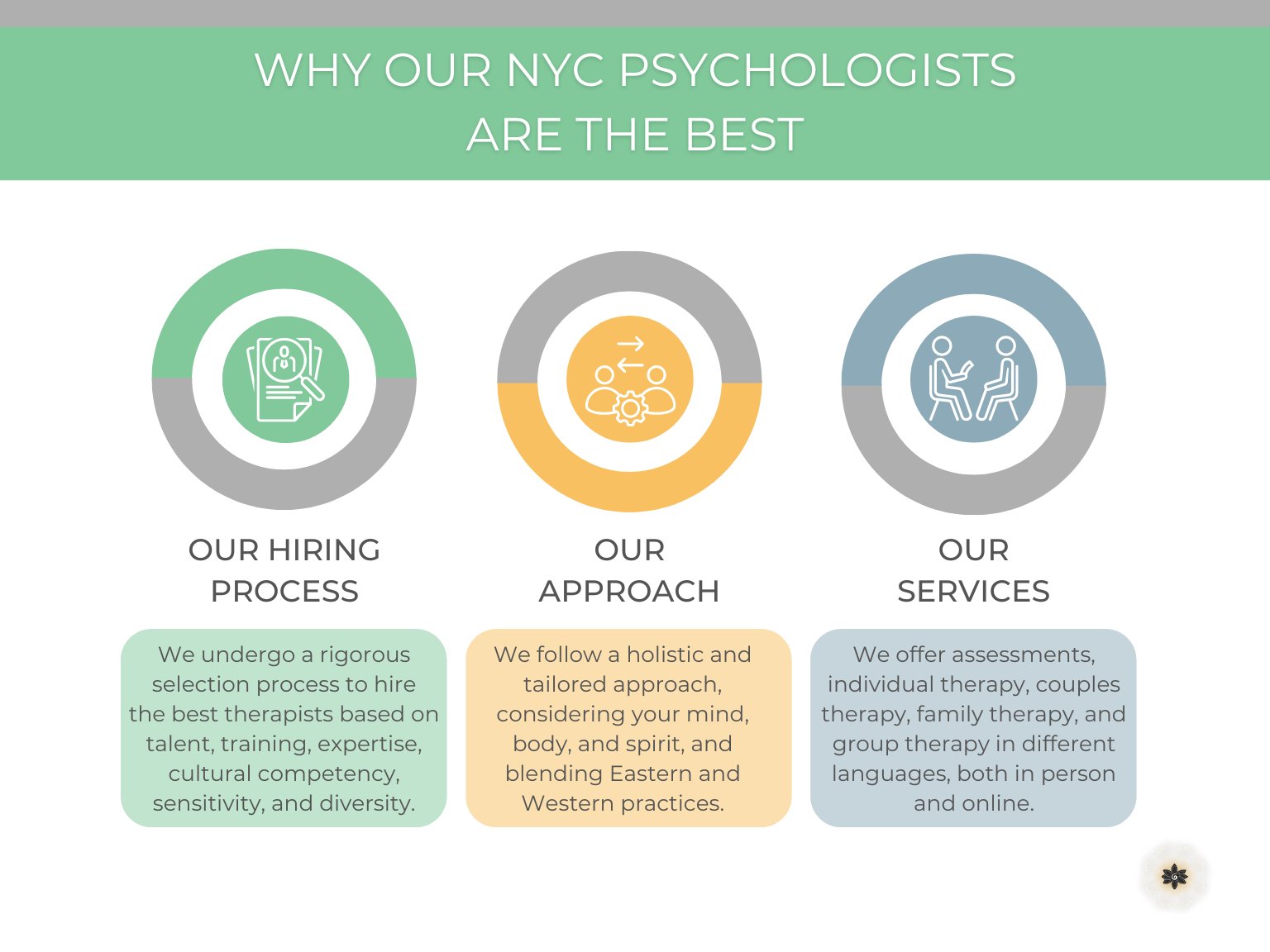 Our Hiring Process
Only the top 5% of psychologists in the U.S. make it to our practice.  We undergo a rigorous selection process to hire the best therapists based on their talent, training, expertise, cultural competency, and sensitivity.  We also strive to maintain a diversity of cultural background, race, ethnicity, gender identity, and sexual orientation.
Our goal?  To keep curating and growing a team of eclectic specialists so we can provide exceptional care that meets your needs. 
Check out our 200+ reviews to see what our clients say about us and how we have supported them throughout their healing journey.
Our Approach
Our practice follows a holistic approach, considering your mind (thoughts, emotions, behaviors), body (physical ailments, functioning, sensations), and spirit (essence, values, and beliefs).  You are a multidimensional human, so we want to ensure all these parts align to improve your whole being.
We blend Eastern and Western practices and multiple therapy modalities to provide treatment tailored to your personality, preferences, and goals.  We'll pair you up with the psychologist(s), service(s), and therapy method(s) that best serve you and your loved ones, prepare a customized treatment plan with clear objectives, and adjust our strategy as necessary.
Our Services
Our psychologists offer assessments, individual therapy, couples therapy, family therapy, and group therapy in different languages, including English, Spanish, French, Mandarin, Korean, Farsi, Arabic, Greek, and more.
We serve teens and adults in person at our New York City practice and throughout the state of New York via online therapy.
Book an Appointment With the Best Psychologists in NYC
Call 212-506-5935 or contact us with any questions about our psychologists and how they can support you.
Ready to work with us?  Book an appointment with one of our therapists today!
Call or Email to Book an Appointment Today!
We'll design an effective, individually tailored treatment to help you reach optimal health and well-being.