Holistic Therapy in NYC
We are the sum of our parts.
As human beings, we encompass our mind, body, and spirit.  These elements are all interconnected, impacting one another as we go through our journeys.
Some of the challenges we face along the way permeate our entire selves instead of one particular area.  For example, you might battle with negative thoughts that translate into painful emotions and debilitate your spirit. Or you may go through a traumatic experience that triggers flashbacks and uncomfortable bodily sensations.
Knowing how all your puzzle pieces come together can help you view yourself in a different light so that you can find acceptance, compassion, and joy.  That's what holistic therapy is all about.
Holistic therapy is an integrative form of psychotherapy focused on seeing individuals as a whole, highlighting the links between the physical, mental, emotional, and spiritual self.
At Madison Park Psychological Services, we offer holistic therapy and other therapeutic services to adults and teens in NYC and its surrounding areas.
If you struggle with stress, anxiety, and overwhelming emotions or simply want to understand yourself a bit better, holistic therapy can help.
Together, we'll uncover the intersections of yourself to support your well-being.
Contact us today to get started, or read on for more information!
Do You Need Holistic Therapy?
Holistic psychotherapy centers on the relationship between your body, mind, emotions, and spirit to increase awareness and self-acceptance.  It draws from other forms of therapy such as psychodynamic therapy and Cognitive-Behavioral Therapy (CBT), as well as non-traditional practices like mindfulness and breathwork.
This treatment aims to look at the whole person instead of solely focusing on the issues or distressing symptoms to help people heal and thrive.
Holistic therapy can help address many different problems and mental health challenges, including:
Mood swings
Overwhelming emotions
Stress
Trauma or Post-Traumatic Stress Disorder (PTSD)
Work issues
You don't need to suffer from a specific problem to benefit from this approach.  Holistic therapy is an effective way to explore, integrate different aspects of yourself, and find balance for sustained wellness.  It can also prepare you with tools and strategies to apply when challenges arise.
Holistic Therapy Procedure & Techniques
Holistic therapy views the individual as an integration of their physical, mental, emotional, and spiritual parts versus treating them as separate entities.
This approach focuses on helping you understand how these components work together to support your being.
Holistic therapy follows three main steps: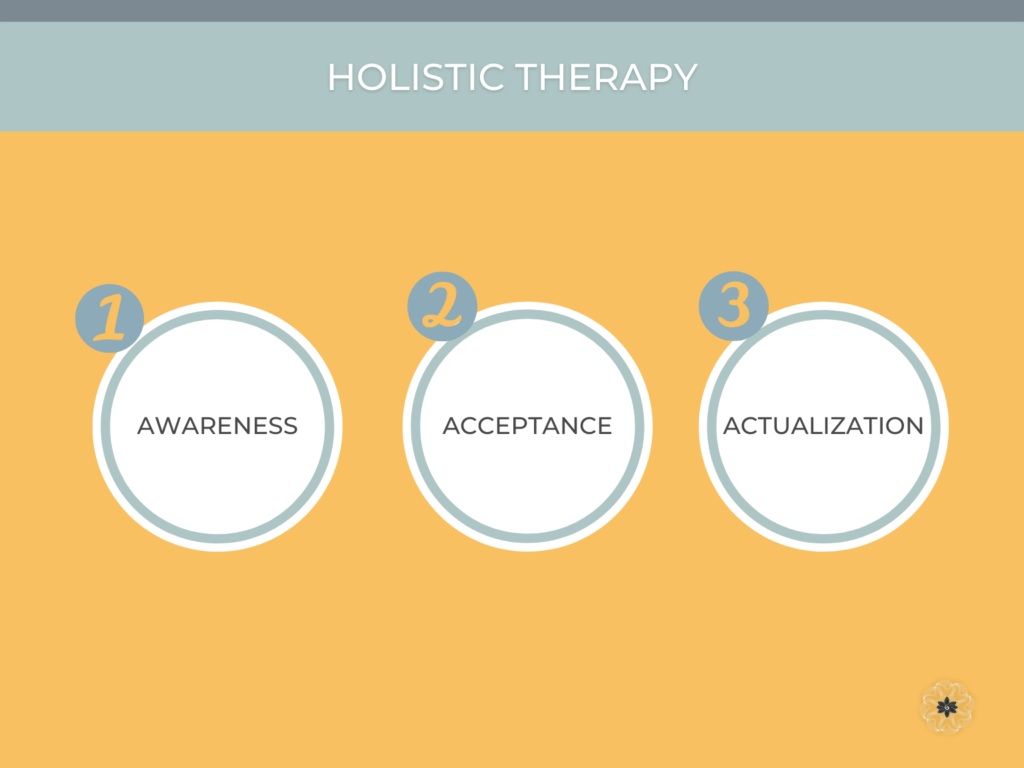 1. Awareness
Your holistic therapist will help you understand your thoughts, emotions, physical sensations, and spiritual beliefs.  The goal is to connect the dots between all these aspects and see how they might be affecting your life.  Becoming aware of your entire self on a deeper level can provide clarity, unearth any repressed emotions, and foster self-compassion.
2. Acceptance
Another critical component of holistic therapy is working on accepting yourself as you are and where you are in your journey.  The idea is to focus on the present moment and embrace it for what it is instead of dwelling on the past or the future.
3. Actualization
Greater awareness and acceptance will then help you step into your full force and connect to your strengths. Through inner tweaking, you will be able to walk into life with ease.
Some of the common mind-body-spirit techniques involved in holistic therapy include:
Acupressure

Breathwork

Meditation (e.g., visualization, body scan, loving-kindness)

Mindfulness (e.g., journaling, gratitude practice, mindful activities)

Relaxation techniques

Qigong

And more!
What to Expect From Holistic Therapy
Holistic therapy can help you:
Gain greater awareness
Foster empathy, compassion, and self-love
Address your whole self, not just one aspect of your health
Understand the mind-body-spirit connection
Learn holistic practices to handle difficult situations and prevent future challenges
Here at Madison Park Psychological Services, we offer holistic therapy services, among many other forms of treatment, to help you achieve a balanced life.  Your journey starts with an initial consultation, where we get to know you and your concerns to find the therapist that better suits you.
Next, you will meet with your holistic therapist to start treatment.  Together, you will assess your current physical, emotional, mental, and spiritual state and establish clear goals tailored to your needs.
As therapy continues, you will experience a combination of talk therapy with holistic techniques such as mindfulness, meditation, and breathwork.  Holistic therapy is a very hands-on approach, so progress is tied to your willingness to open up and participate.
Remember, your therapist will be there to guide you through the entire process, not to pass judgment or criticize you.  You are both in the same team with a shared objective: supporting your well-being.
Booking an Appointment for Holistic Therapy NYC
At Madison Park Psychological Services, we offer the most comprehensive form of treatment, online via teletherapy. If you are suffering or looking for ways to learn more about yourself, holistic therapy can help. Call us at 212-506-5935 or book an appointment today!
Related Therapy
Holistic Body Mind Spirit Therapy FAQs
What is holistic counseling and psychotherapy?
Holistic counseling or holistic psychotherapy is an integrative approach that focuses on treating the person as a whole, considering their physical, emotional, mental, and spiritual health to improve their well-being.
How does holistic therapy work?
Holistic therapy aims to foster awareness, acceptance, and relaxation to help you heal and grow.  It centers more on understanding the connections between your body, mind, emotions, and spirit and the role they play in your life, rather than the issues or symptoms at hand.
How long does holistic therapy take?
The frequency and length of holistic therapy may vary greatly depending on your specific needs, goals, and progress.  Together, you and your holistic therapist will discuss a plan and adjust treatment according to these factors.
For example, you might want to stay in therapy after symptoms have resolved to continue to learn from the holistic practices involved.  As long as treatment is benefitting you, we are here for you.
Does insurance cover holistic therapy?
We are an out-of-network provider.  If you have out-of-network coverage for behavioral health services, your insurance might cover holistic therapy in full or in part.  Check your out-of-network plan to confirm what services are covered by your insurance.
We also offer lower fees if you don't have enough coverage or need to pay out of pocket.  Visit our Rates and Insurance page or contact us for more information.
How much does it cost to do holistic therapy?
Holistic therapy costs the same as any other therapy session.  If you have questions about our specific rates, please reach out to us!  We look forward to hearing from you.
Call or Book an Holistic Therapy NYC Appointment Online Today
We'll design an effective, individually tailored treatment to help you reach optimal health and well-being.