Black Therapists NYC | Madison Park Psychological Services
Black Therapists NYC
Finding a therapist of color, let alone a Black therapist can be taxing.
You may be looking for someone with an innate understanding of what it's like to be Black in America. You might have tried non-Black therapists before, but felt the need to overexplain or re-educate them on the nuances tied to race. Or perhaps you are exploring the possibility of counseling—if only you could enter a room where you can be yourself, with no guard, code-switch, or need to fit in.
If you are searching for a Black therapist committed to providing culturally competent and compassionate care, we can help.
At Madison Park Psychological Services, we offer a wealth of counseling services for teens and adults in NYC and its surrounding areas. Our multicultural team includes Black female and male therapists who recognize and respect your background, identity, and story.
Call 212-506-5935 or contact us to learn more about how we can support you.
Ready to get started? Book a consultation with one of our Black therapists today!
 Our Black Therapists in NYC
You deserve a therapist who understands you.
While this doesn't mean your therapist has to share your race, culture, or upbringing to have success in treatment, it does mean that trust and alignment are paramount.
Our Black therapists are aware of the role race, history, and systemic inequities play in your experiences, how you see the world, and how the world sees you. We fully grasp the unique challenges that Black communities face and how bias, unrest, racial trauma, and microaggressions can impact your mental health.
Feeling seen and free to enter a space of raw vulnerability with your counselor allows you to have authentic conversations without the need to overexplain, defend yourself, or teach them about this reality. You can speak about what ails you without fear of prejudice, harm, or alienation. We seek to build a safe environment and a trusting relationship so you can feel at ease and start healing.
We have supported many Black individuals, couples, families, and groups of various socioeconomic backgrounds, sexual orientations, gender identities, religions, and cultures.  Our team offers counseling in different languages, including English, Spanish, French, Farsi, Mandarin, and Arabic, to accommodate your needs.
We are committed to customizing treatment to your distinct situation, identity, and experiences. We will meet you where you are and as you are, willing to listen with kindness and offer honest feedback as we traverse this journey.
Conditions Treated by Our Black Therapists
While mental health conditions affect individuals regardless of age, race, ethnicity, or culture, Black communities face added difficulties.  Discrimination, racism, bigotry, intolerance, ignorance, and the complex navigation of all-white spaces can affect your well-being and ability to heal.
At Madison Park Psychological Services, we also recognize the stigma and skepticism associated with therapy in different groups, especially people of color.  Perhaps mental health issues are often ignored, swept under the rug, or shamed in your family or close circles.  Add to this the shortage of therapists of color in the country, cost barriers, and distrust toward the healthcare system, and you get a combination that makes treatment access increasingly challenging.
That's why we have built a team of diverse specialists with expert training, cultural fluency, and compassion to provide affordable care tailored to your whole person.  We consider your identity, physical, emotional, psychological, and spiritual being.  And we will always treat you with the warmth, honor, and empathy you deserve, whatever your concerns. 
Our Black therapists can support you with a broad range of psychological conditions, including but not limited to: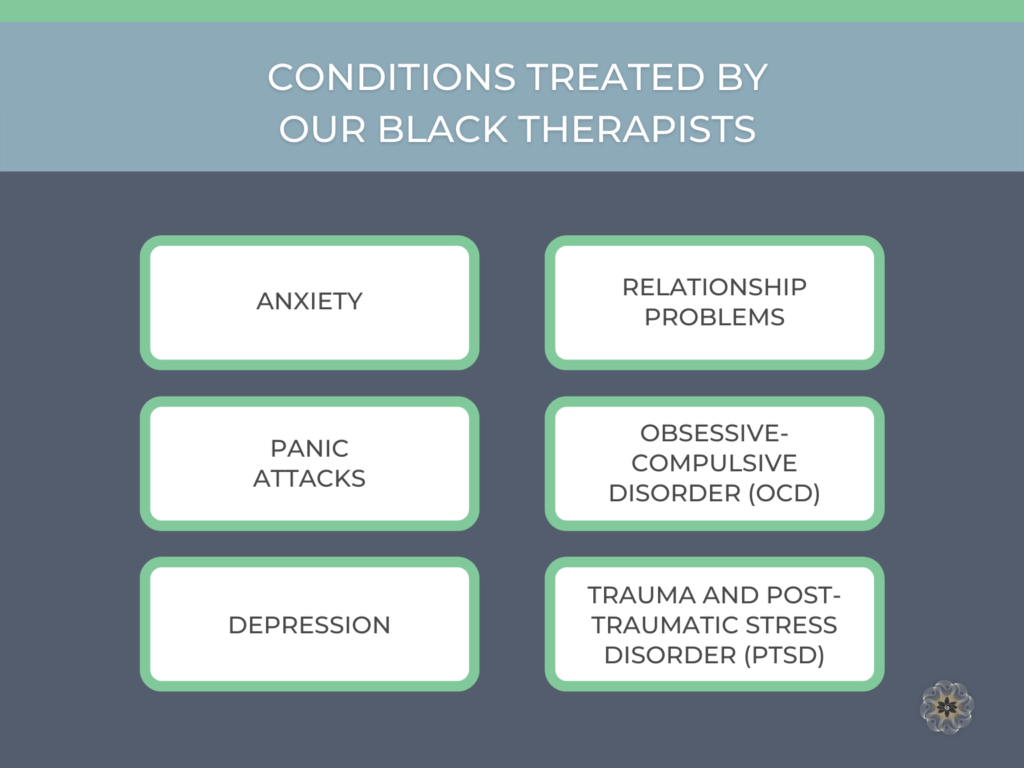 Anxiety
Excessive and recurring anxiety can take control of your life, even when you least expect it.  Anxiety therapy aims to help you cope with worry, irritability, and restlessness to find ease and peace of mind.
 Panic Attacks
Panic attacks may happen frequently or occasionally, disarming you on a mental, physical, and emotional level.  Therapy can support you to explore what's behind these terrifying experiences and overcome them to live well again.
 Depression
Depression is one of the most common mental health issues in the U.S., but it's also treatable with the proper support.  Let's work together to surf these debilitating symptoms, regain hope, and recover your sense of purpose.
Relationship Problems
We all crave connection, love, and support.  Therapy can help you improve your interpersonal skills, address issues with your loved ones, and develop stronger, lasting bonds.
Obsessive-Compulsive Disorder (OCD)
Obsessive thoughts and compulsive behaviors are much more than quirks and odd habits—they can impact your everyday activities and lead to suffering. We can support you to safely examine and face your triggers to manage your compulsions and relieve distress.
Trauma and Post-Traumatic Stress Disorder (PTSD)
You may carry wounds from threatening or painful events (e.g., enduring childhood abuse, losing someone you love, or suffering an accident). Therapy allows you to reprocess and resolve trauma, so you can mend and thrive.
Forms of Therapy Offered by Our Black Therapists
Our Black male and female therapists are licensed and trained in multiple therapeutic approaches. We may opt for one or a combination of various modalities depending on your specific needs, symptoms, and preferences.
Whether you are looking for a particular counseling method or don't know which one would be the right fit for you, we can help. We will personalize treatment to your situation and adjust it as you progress to achieve sustainable outcomes.
Some of the forms of therapy our Black therapists offer include:
Cognitive-Behavioral Therapy (CBT)
Cognitive-Behavioral Therapy (CBT) is an evidence-based modality that looks at how your thoughts, feelings, and behaviors affect each other to identify and change unhealthy habits. It can help address depression, anxiety, stress, trauma, insomnia, and many other conditions.
Dialectical-Behavioral Therapy (DBT)
Dialectical-Behavioral Therapy, or DBT, incorporates CBT with mindfulness, emotion regulation, distress tolerance, and interpersonal skills to manage psychological challenges. The purpose is to embrace awareness, manage your emotions, cope with stressors, and enhance your relationships to improve your well-being. 
Acceptance and Commitment Therapy (ACT)
Acceptance and Commitment Therapy (also known as ACT) is a type of CBT that blends mindfulness, core values, and committed action to improve your psychological flexibility. As you make space for internal and external experiences and stay true to your values, you can engage in healthier habits.
Psychodynamic Therapy
Psychodynamic therapy focuses on examining your past, fears, and desires to understand your present and transform your future. This treatment offers deep insight into yourself and how your experiences may have shaped you to help you shift what's not serving you and gain relief.
Holistic/Body-Mind-Spirit Therapy
Holistic therapy considers your whole self—body, mind, emotions, and essence—and how all your components interact and affect your well-being. The idea is to increase self-awareness, foster acceptance, and connect to your strengths to actualize your goals.
Working With Our Black Therapists
 Our Black therapists offer different counseling services, including psychological assessments, individual therapy, couples therapy, family therapy, and group therapy. 
Our work together begins with a consultation, where we'll gather information about yourself, your concerns, and what you're looking to gain in therapy.  We'll discuss our process, logistics, and services, answering any inquiries you might have.  If you seek a Black therapist, we'll recommend the one who fits your needs and objectives. 
You will meet regularly with your chosen therapist, in person or online, and determine the length and frequency of sessions that suits you.
We will walk alongside you on this journey of exploration, self-discovery, and lasting change.  We want to empower you with practical ways to navigate life's challenges and daily stressors to the point where you can continue this path on your own.
Book an Appointment with One of Our Black Therapists Today!
 If you are searching for a responsive and empathetic Black therapist, we are here for you!
Contact us to learn more about our psychologists and how we can help you.  We look forward to working with you!
Ready to start therapy?  Book an appointment or call 212-506-5935.
Call or Email to Book an Appointment with a Black Therapist Today!
We'll design an effective, individually tailored treatment to help you reach optimal health and well-being.