Dialectical-Behavioral Therapy –
DBT Therapy NYC
Dialectical Behavioral Therapy in NYC
You deserve a life worth living.
All of us do!  We aspire to have a healthy family, a loving partner, and a thriving purpose.  We yearn for connection, care, and excitement!  Yet, sometimes, our paths are so difficult that our goals seem to get farther and farther away.
You might have a hard time managing your emotions, which may impact how you perform your job or act around your loved ones. Maybe you struggle to handle stress or to communicate your needs and boundaries to others.  Or perhaps you are grappling with negative thoughts and self-destructive behaviors, questioning if there's a point in living at all. There is a point.
You are worthy of love and happiness.
If you or someone in your family feels hopeless, empty, or frustrated, consider trying Dialectical-Behavioral Therapy. Dialectical-Behavioral Therapy (DBT) combines Cognitive-Behavioral Therapy (CBT) with core skills to support your wellness journey.  The goal is to help you accept your experiences, cope with stress, regulate your emotions, and improve your interactions. At Madison Park Psychological Services, we offer DBT therapy to adults and teens in the NYC community. If you have any questions or are ready to get started, contact us today!
Do You Need DBT?
Dialectical-Behavioral Therapy (also known as DBT) aims to reduce distress and build up your skills so you can grow and thrive. Comprehensive DBT was initially developed to treat symptoms of Borderline Personality Disorder (BPD). Yet, it's become an effective form of psychotherapy to help kids and adults navigate a broad range of mental health challenges, including:
High-stress levels

Impulsive or self-destructive behaviors

Moodiness or irritability

Overwhelming emotions or outbursts

Post-Traumatic Stress Disorder (PTSD)

Self-harm or suicidal thoughts
If you feel like any of these issues are affecting your ability to work, function, and relate to others, DBT therapy can help. You can also opt for DBT if you simply want to learn and apply new strategies for a fulfilling life.

DBT Procedure & Techniques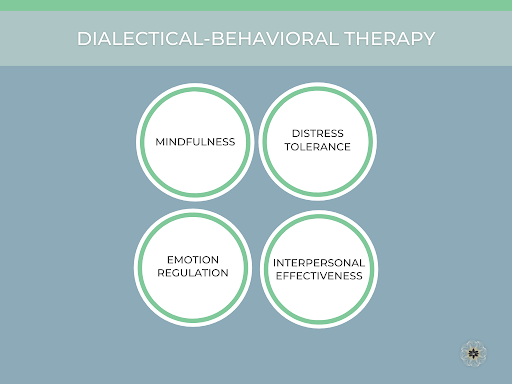 DBT is an evidence based, structured treatment approach that focuses on building and practicing four core skills:
Mindfulness
Mindfulness refers to the ability to become aware of the present moment without control or judgment. You will foster curiosity and learn to observe your thoughts, emotions, behaviors, and the environment around you.
Distress Tolerance
Distress tolerance consists of accepting what you can't control and carrying on despite the difficulties. You will prevent impulsive actions and gain coping techniques (e.g., breathwork and relaxation exercises) to handle stressful and painful events.
Emotion Regulation
Emotion regulation teaches you to notice and manage your emotions.  You will recognize where your feelings stem from, how they impact your thoughts and actions, and what you can do to navigate them.
Interpersonal Effectiveness
Interpersonal effectiveness helps you form and maintain healthier relationships while staying true to yourself.  You will improve your social skills (listening, communication, conflict resolution) and learn how to set clear boundaries with others.
Comprehensive DBT skills training can be provided in the following settings:
Individual therapy: One-on-one sessions with a licensed mental health professional trained in DBT.  Your DBT therapist will adapt treatment to your needs and help you apply the above core skills accordingly.
Group therapy: A skills development group facilitated by a DBT therapist. You will learn and practice these core skills along with a group of five to 10 individuals.
Coaching: Phone coaching between sessions. You can call your DBT therapist for guidance as you are going through a difficult situation.


What to Expect From DBT Therapy
DBT therapy marries two strategies: acceptance and change.  DBT can help you accept your experiences and support you to make the necessary changes for a healthier life.
Some of the benefits of DBT therapy include:
Fostering awareness and validation

Identifying and shifting unhelpful thoughts and actions

Managing distress and emotional pain

Gaining self-confidence and motivation

Learning practical coping and social skills
At Madison Park Psychological Services, we provide different types of behavioral therapy, including DBT.  During your first consultation, we will discuss your symptoms and goals. Getting to know you will help us find the best DBT therapist for you and your needs. DBT treatment will depend on how severe and intense your symptoms are. Our main priority is your safety, so we will focus on reducing suicidal thoughts and self-harm (if that's the case).
Once behaviors are more stable, DBT treatment will center on addressing emotional pain.  Keep in mind that you may uncover traumas and explore difficult experiences. We will work closely with you to support you along the way and empower you with tools to navigate hardship. Our DBT therapists will also help you develop the four core DBT skills (mindfulness, distress tolerance, emotion regulation, and interpersonal effectiveness) to change damaging habits and improve your quality of life. You will be asked to complete homework between sessions to practice your skills. The assignments may include journaling to track your thoughts, emotions, behaviors, and the skills you use throughout your journey.
Booking an Appointment for DBT Therapy NYC
Here at Madison Park Psychological Services, we are proud to serve the NYC area with different psychotherapy services and specialties, including DBT therapy.  We offer teletherapy to accommodate you and your loved ones. You long for a fulfilling life.  We are here to help you make it happen. Contact us to book a DBT therapy appointment or call us at 212-506-5935 to get started.
Dialectical Behavioral Therapy FAQs
Does Medicare cover DBT therapy? 
Medicare Part B provides coverage for a broad range of psychotherapy services, which includes DBT therapy.  As a Medicare recipient, you will need to pay any applicable deductible and copay amounts.  Contact us for more information about Medicare coverage.
How long does DBT therapy last?
DBT therapy is a long-term approach that may require a commitment of six months to one year.  Treatment length will depend upon your specific situation, symptoms, skills progress, and setting (individual or group therapy). Talk to your DBT therapist to evaluate how long therapy may last in your case.
Is DBT therapy expensive?
DBT therapy costs the same as other therapy sessions.  We are an out-of-network provider, so if you have out-of-network coverage, you will be reimbursed by your insurance company. If you have to pay for DBT therapy out of pocket, we can work with you to determine an affordable fee.  Visit our Rates & Insurance page for more coverage information, or reach out to us with your questions. We are here to help!
Who qualifies for DBT therapy?
DBT therapy can help children, teens, and adults embrace awareness, navigate distress, manage emotions, and improve interpersonal relationships. You don't need to experience a crisis or suffer a particular mental health condition to "qualify" for DBT therapy.  If you are unsure whether DBT therapy is suitable for you, contact us.  We will get to know you to determine the best modality and therapist for you.
What does a DBT session look like?
During an individual DBT session, you will meet with a licensed mental health professional trained in the Dialectical Behavioral Therapy approach.  Your DBT therapist will help you stay safe, address debilitating symptoms, and teach you the core DBT skills. DBT skills group sessions will look more like classes facilitated by a DBT therapist.  The focus is on learning and practicing those social, behavioral, and emotional skills with other participants. DBT phone coaching sessions are intended to support you in the moment of crisis or when you need immediate help with a DBT skill.  These calls are typically shorter than individual or group sessions and may only happen within an agreed-upon schedule.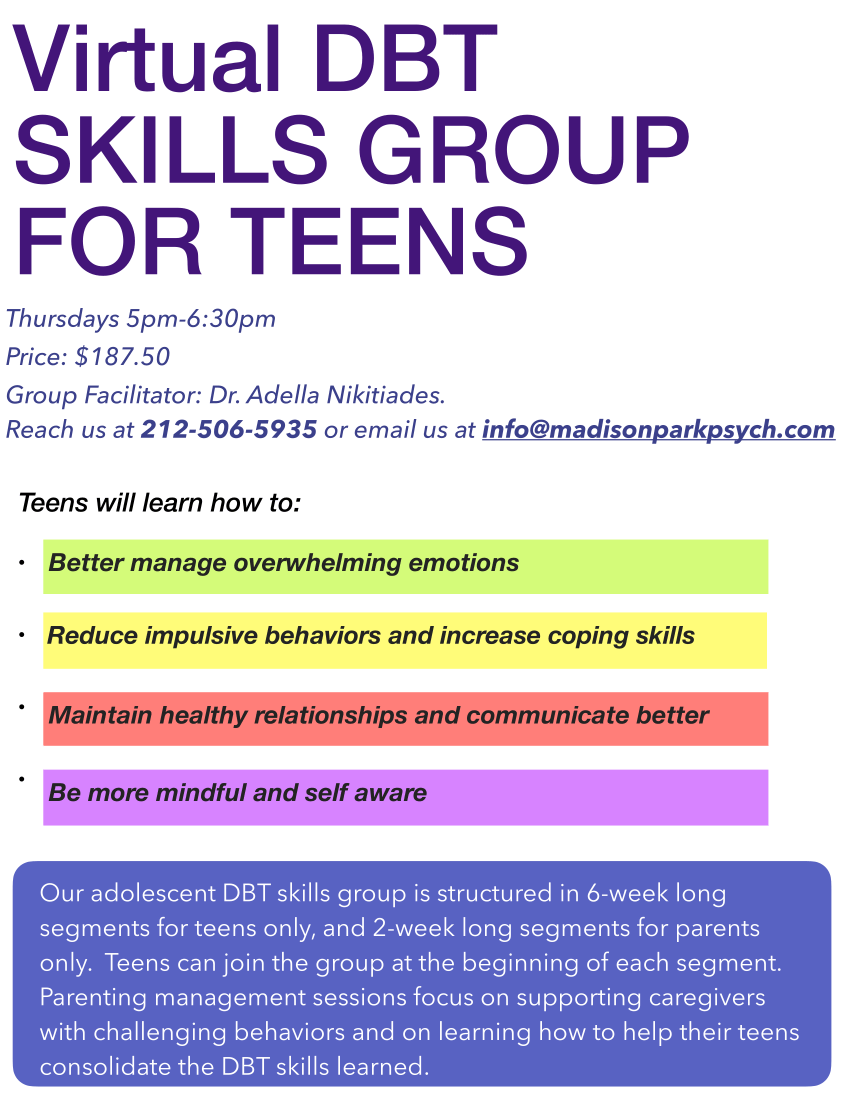 Call or Book an Dialectical Behavioral Therapy – DBT Therapy NYC | Madison Park Psychological Services Appointment Online Today
We'll design an effective, individually tailored treatment to help you reach optimal health and well-being.