Grief Counseling in NYC
Impermanence is part of life.
Loss can take many shapes, from the death of a loved one to the culmination of a major part of your journey.
The common denominator of loss is the painful experience of being stripped away from a piece of yourself or your world—physically, mentally, or emotionally.
While some people can heal with time and the support of friends and family, others might feel confused and stuck in an everlasting storm. Longing what's been lost might hurt so deeply that carrying on seems unfeasible.
If you are struggling with the fallout of a profound loss, we are here for you. We offer grief counseling to help teens and adults welcome acceptance and adjust to their new reality.
Contact us to start therapy today, or read on to learn more about how we can help.
What Is Grief?
Grief is your reaction to losing something or someone. 
Common examples of losses include:
Breakup, separation, or divorce

Death of a friend, family member, or pet

End of a special chapter or project

Immigrating or moving to a different location

Loss of a job, business, opportunity, or purpose

Loss of identity, role, or safety
Do You Need Grief Counseling?
Experiencing grief is natural. But when it's too severe and extends over time, it might become "complicated," interfering with your ability to live, work, and do the things you love.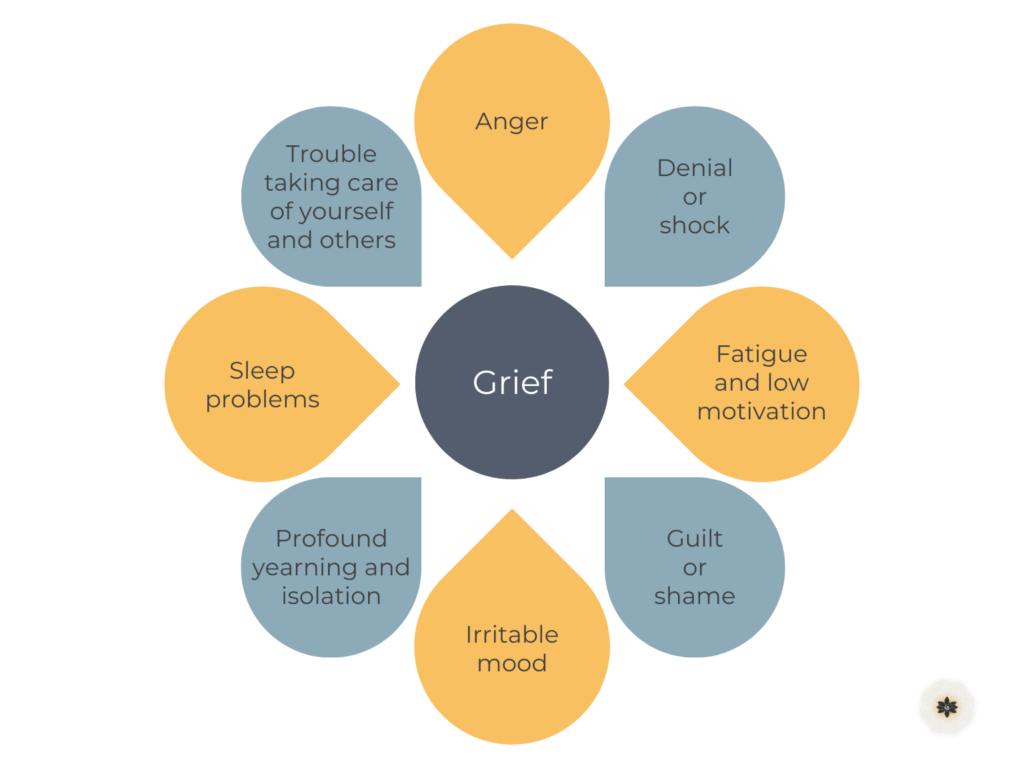 Symptoms of dysfunctional or complicated grief include:
Anger

Denial or shock

Fatigue and low motivation

Guilt or shame

Irritable mood

Profound yearning and isolation

Sleep problems

Trouble taking care of yourself and others
Signs of grief may be similar to those of depression, anxiety, and trauma.
You might think of therapy as a last resource or something you don't need because you "should" be able to heal by yourself. Perhaps you don't want to share your deepest thoughts and fears with a stranger, particularly if these stem from a heartbreaking loss. Or you may be trying to suppress and numb the pain, only to find yourself hurting even more.
You deserve to take space and make this process your own. But you are not alone in this. If you are grappling with symptoms of complicated grief, counseling can help you.
What Is Grief Counseling and What Can It Do for You?
Grief counseling, also known as grief therapy, bereavement therapy, or therapy for grief and loss, is a treatment focused on helping you navigate grief and its debilitating symptoms. It consists of meeting with a licensed therapist to discuss, process, and find helpful ways to cope with loss.
The goal is not to erase or deny your experience but to manage grief in a healthy and sustainable manner so you can resume your path.
Benefits of Grief Counseling
Grief counseling gives you the time, space, and support you deserve to move through your pain while honoring your requirements, values, and rhythm.
Grief therapy can help you:
Access empathetic and evidence-based care from a trained specialist

Express yourself freely in a confidential environment

Feel seen and validated

Foster self-compassion, confidence, and a sense of purpose

Gain insight about yourself and how this loss may be impacting different aspects of your life

Learn strategies to manage emotional turmoil, disturbing thoughts, and risky behaviors related to loss

Restart or enhance your self-care capabilities, so you can study, work, and look after others
What to Expect from Grief Counseling
Grief counseling starts as most therapy journeys, by getting to know you and what brought you here. We will ask questions and give you an open field to reflect, feel, and express what's hurting you.
As counseling unfolds, we will guide you to examine your loss and your response to it, looking at any helpful or unhelpful roads you have taken to cope. 
Are they benefiting you? Or are they perpetuating your pain? 
We will also identify tactics and shifts needed to process your loss without rushing or pressuring you into anything.
Your grieving process will not look like anyone else's. We will personalize treatment to your situation and the stage of grief you are in—denial, anger, bargaining, depression, or anywhere in between. The objective is to help you accept your loss, release the need to resist or control what you can't, and embrace change for a new beginning.
How Long Does Grief Counseling Last?
There is no set duration for grief treatment. The number of sessions needed will depend on many variables: your background, support system, progress, commitment to the process, and the therapy modality.
We will create a treatment plan and determine how long therapy will last, which can be adjusted as you heal.
Remember, even if treatment is complete, our doors will always be open should you need more support.
How to Find a Grief Counselor That's Right for You
Looking for the right therapist may feel like an arduous quest. But it's an important choice, so take the time you need.
Tips for finding a grief counselor that fits your needs:
Do a thorough search online, or if you feel comfortable with it, ask family members and friends if they know of a therapist specializing in grief and loss.

Take it a step further and look for a culturally-competent therapist who has worked with people of the same background, culture, and values as you. For example, if you are struggling with immigration grief, search for a therapist who has supported immigrants.

When skimming through

therapists' profiles

, read their full bios and reviews. See if you resonate with their stories.

If you prefer a particular

treatment method or modality

(e.g.,

CBT

or

mindfulness-based therapy

), ensure your therapist is certified to offer it.

Book a consultation

with your prospective therapist(s) and ask them specific questions to evaluate if you are a good fit (e.g., approach, experience, conditions treated, process, and payment). Most therapists offer

free consultations

before committing to a paid therapy session, so take advantage of them. Vetting your therapist is an integral part of your healing process.
Our practice is proud to house multicultural therapists, including POC, Black, Asian, and Asian American therapists, to meet your individual needs. We specialize in a wide range of conditions, including grief and loss, and are certified in various modalities.
We are happy to discuss what you are looking for and find the right counselor for you.
Grief Counseling at Madison Park Psychological Services in NYC
At Madison Park Psychological Services, we offer grief counseling to help you traverse your loss and go back to enjoying your life. We work with teens and adults from different cultures, races, beliefs, and identities residing in NYC and nearby areas. We provide online therapy throughout NY via telehealth.
After your initial consultation, we will ensure we match you with the therapist(s) that best suit you. Our focus is on holistic care that sparks a genuine transformation on all levels (physical, emotional, and mental health).
We strive to make therapy as accessible and affordable as possible, delivering it in multiple languages (English, Spanish, French, Mandarin, Arabic, and Farsi) and offering low-rate alternatives.
If you are hurting after losing a loved one or something dear to you, we can help.
Call 212-506-5935 or book an appointment today.
Call or Email to Book an Appointment for Grief Counseling in New York Today!
We'll design an effective, individually tailored treatment to help you reach optimal health and well-being.