Developmental Therapist in NYC
Developmental Therapy
Life is an ongoing journey of growth and evolution. We all strive to learn, develop, and overcome challenges, regardless of our age. This journey, filled with milestones and achievements, can sometimes be hampered by roadblocks or concerns.
At Madison Park Psychological Services, we understand these concerns. We're not only a home for children in need of developmental support but also a haven for adults seeking to navigate life transitions or personal growth challenges. Our developmental therapists, backed by solid academic knowledge and extensive hands-on experience, are committed to providing unparalleled developmental therapy to individuals of all ages in NYC.
Developmental Therapist: Your Expert in Developmental Challenges & Delays
What Is A Developmental Therapist?
What Does a Developmental Therapist Do?
Each person's developmental journey is a unique narrative, rich with discovery, obstacles and growth. Just as every individual carries their own set of strengths, perspectives, and life stories, their growth paths differ significantly as well. Our therapists are experts at discerning these individual narratives, using their knowledge to support and guide children, adults, and families through their developmental journey.
What is a Developmental Therapist?
A developmental therapist is a highly skilled professional with advanced qualifications in psychology. They are experts in understanding and navigating the complex map of human development across all ages, from early childhood through adulthood.
The role of a developmental therapist stretches beyond the mere observation and recording of developmental milestones, extending into adulthood to include transitional stages, career growth, and the aging process. They carry the expertise to detect potential delays or divergences in these milestones for children, and can identify barriers to personal growth and emotional well-being in adults. These professionals are equipped with a comprehensive toolkit of evidence-based interventions that can be tailored to support an individual's unique developmental journey at any stage of life.
A developmental therapist crafts an individualized plan, meticulously designed to accommodate the individual's specific needs. This plan takes into account a multitude of factors, such as the individual's strengths and weaknesses, their environment, and their interactions with peers and other significant relationships in their life.
Perhaps the most significant aspect of their role lies in the bridge they build between individuals and the fascinating world of human development. They empower you with knowledge and effective strategies, fostering development across various environments.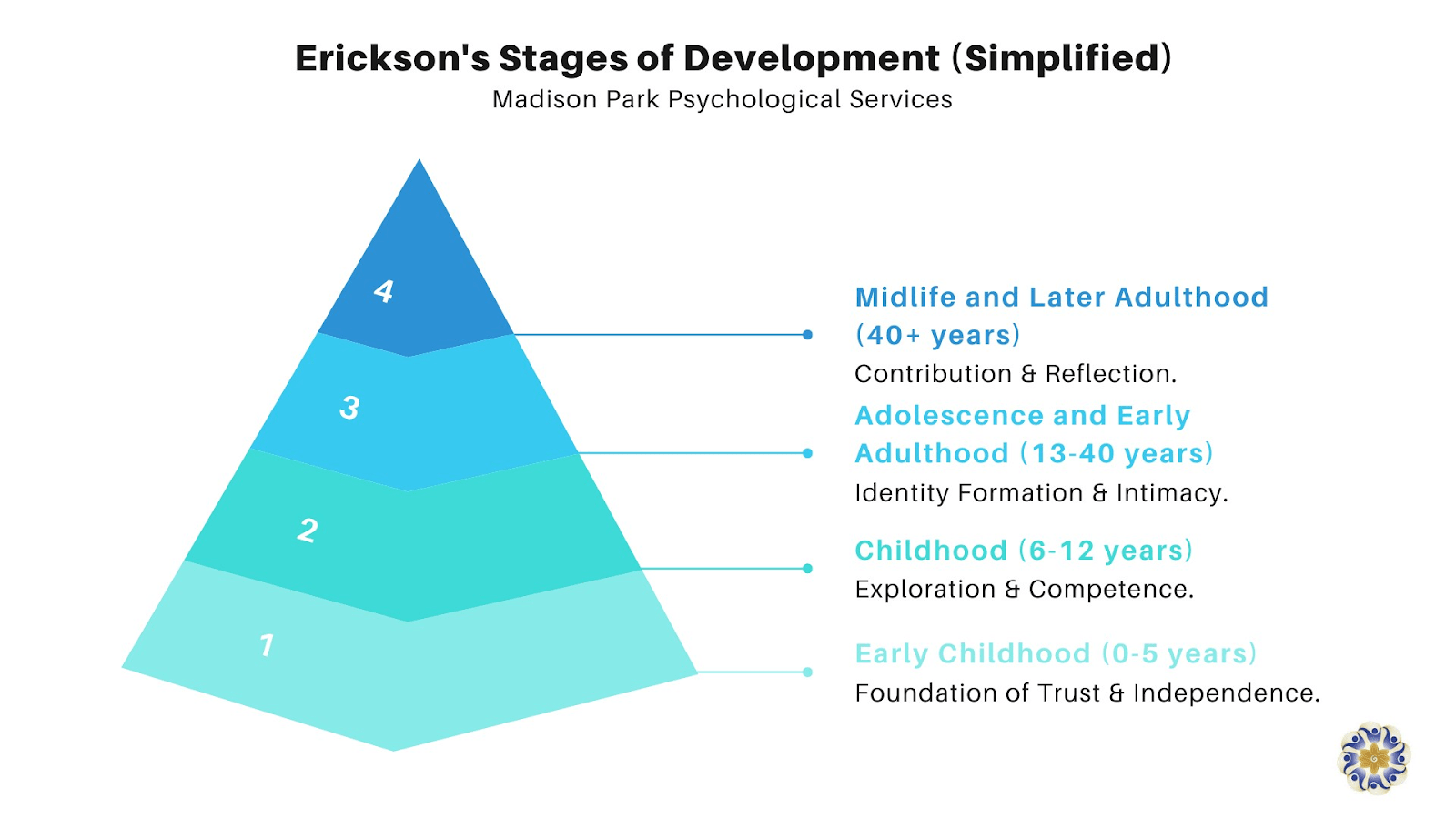 Who Can Benefit from Developmental Therapy?
As you consider whether developmental therapy is the right choice for you or your child, remember its key advantage: Adaptability. This form of therapy can be incredibly beneficial, not just for children facing developmental challenges, but also for adults navigating life transitions, relationships, self development concerns, etc.
The true power of developmental therapy lies in its scope, extending beyond the individual to the entire family. So, if you've ever felt overwhelmed by your child's developmental progress or sought guidance on how to establish a nurturing, stimulating home environment, a developmental therapist can be your strongest ally. Similarly, if you're an adult grappling with personal growth, handling life transitions, or managing emotional well-being, a developmental therapist can provide the vital support and strategies you require.
Overall, developmental therapy adapts to the needs of the individual. Our therapists focus on recognizing and harnessing each person's unique strengths and needs. The result? Personalized intervention plans that foster holistic development. These aren't cookie-cutter plans, but tailored, comprehensive approaches that are as unique and exceptional as the individuals they are designed to serve.
Our Developmental Therapists in New York City
Our team at Madison Park Psychological Services consists of dedicated psychologists with an extraordinary breadth of practical experience and psychological expertise.
Apart from being highly trained professionals, our psychologists possess vast experience in lifespan development. Their proficient understanding of human development across all ages and stages of life enables them to transform everyday experiences into opportunities for growth and learning for children and adults alike.
Our psychologists are trained to look beyond surface-level challenges. They adopt a holistic approach, considering the developmental process of individuals, in the wider context of their environment, relationships, and experiences. Collaborating closely with families and individuals, they work to understand concerns and aspirations, and modify their interventions to cater to the unique dynamics of each situation. This methodology aligns with our belief in embracing every person's individuality while supporting them on their developmental journey.
Conditions Treated by Our Developmental Therapists
Our NYC-based psychologists are trained to address a wide spectrum of developmental issues. Many people are often surprised to learn that developmental conditions aren't exclusive to childhood but can affect individuals at any age. These conditions can include:
Anxiety: This condition can cause a chronic sense of worry or fear. Our psychologists are equipped with strategies to assist people in understanding and managing their anxiety effectively.
Panic Attacks: Sudden bouts of fear or stress may manifest as panic attacks. Our team can provide coping mechanisms and calming strategies to people dealing with such experiences.
Depression: Characterized by pervasive feelings of profound sadness and hopelessness, depression often affects a person's daily life. Through therapy, we aim to support individuals through these feelings and help make changes to shift them.
Relationship Difficulties: Challenges with forming or maintaining relationships can be a hurdle for many. Our team can address these struggles, helping individuals foster healthier connections.
Trauma: Adverse experiences and how they're perceived can result in trauma, leaving deep emotional scars. Our psychologists can guide individuals and their families through the healing process following traumatic experiences.
Feeling "Stuck": Sometimes individuals may feel stagnant or "stuck" in their lives, unable to move forward due to unseen barriers. Our team can help identify these obstacles, providing guidance and strategies to facilitate growth and progression.
Our psychologists draw upon their vast training in developmental psychology to address these challenges. Their goal is not merely to 'treat' an individual but to equip them with resilience and coping mechanisms that will serve them throughout their lives. They work towards empowering individuals and their families to lead happier, healthier, and more fulfilling lives.
Types of Therapies our Developmental Therapists Provide
Our developmental therapists understand that each person is unique, and there's no one-size-fits-all solution. As such, they are trained in a variety of therapeutic techniques grounded in developmental psychology and tailored to suit the individual needs of both children and adults. These techniques include:
Cognitive-Behavioral Therapy (CBT):

 A well-established form of therapy designed to identify and address harmful thought and behavior patterns.

Psychodynamic Therapy:

This approach examines how unconscious processes and experiences influence current behavior.

Holistic/Body-Mind-Spirit Approach: This approach considers the complete individual, including their physical health, mental and emotional well-being, and spiritual growth.

Integrated Therapy:

 Recognizing the complexity of human experience, our therapists often utilize a blend of the above techniques tailored to the needs of the individual. This integration of multiple approaches allows for a comprehensive treatment plan, ensuring a holistic understanding and approach to the individual's development.
The Transformative Power of Developmental Therapy
As we grow older, our patterns of thinking, feeling, and behaving become deeply ingrained. While some of these patterns are helpful, others can be disruptive, creating hurdles in our developmental journey.
Developmental therapy holds the transformative power to reshape these patterns. It's not just for children looking to overcome developmental obstacles and enhance their skills but also for adults eager to unlock new avenues of personal growth. It can also empower parents with the knowledge and tools to support their child's development and confidently navigate their parenting journey.
Our developmental therapists are equipped to handle a diverse range of developmental needs. We customize our approach to match the unique circumstances of each person, ensuring that the therapy provided is both appropriate and effective. In this way, our therapists can help address a variety of developmental challenges.
Book an Appointment with One of Our Developmental Therapists Today!
Whether you're an adult seeking personal growth or a parent striving for your child's well-being, taking the step to seek help is a mark of strength.
At Madison Park Psychological Services, our expert team of developmental psychologists stands ready to guide you on your journey. Experience transformative growth and discover your full potential with professional support.
Reach out to us today – together, we can chart the path towards a more fulfilling life.
Call or Email to Book an Appointment Today!
We'll design an effective, individually tailored treatment to help you reach optimal health and well-being.