Spanish Speaking Therapists in NYC
Spanish Speaking Therapists in NYC
If your therapist doesn't speak your language or understand your cultural roots, communication, trust, and true healing might be at risk.  
You may feel inadequate or have difficulty expressing your thoughts and emotions in English.  Or perhaps your therapist may not fully grasp what you are going through, resulting in confusion and misdiagnosis.
At Madison Park Psychological Services, we provide various therapeutic services for teens and adults living in NYC and its surroundings.  Our team of counselors echoes the city's diversity, including Spanish speaking therapists from different backgrounds and walks of life.
We know how important it is for you to feel safe and comfortable in the therapy room.  So if you are searching for a qualified therapist who speaks Spanish and celebrates your heritage, we are here for you.
Read on or contact us to learn more about how we can help you.
Ready to start?  Book a consultation with one of our Spanish speaking therapists today.
 Our Spanish Speaking Therapists Based in New York City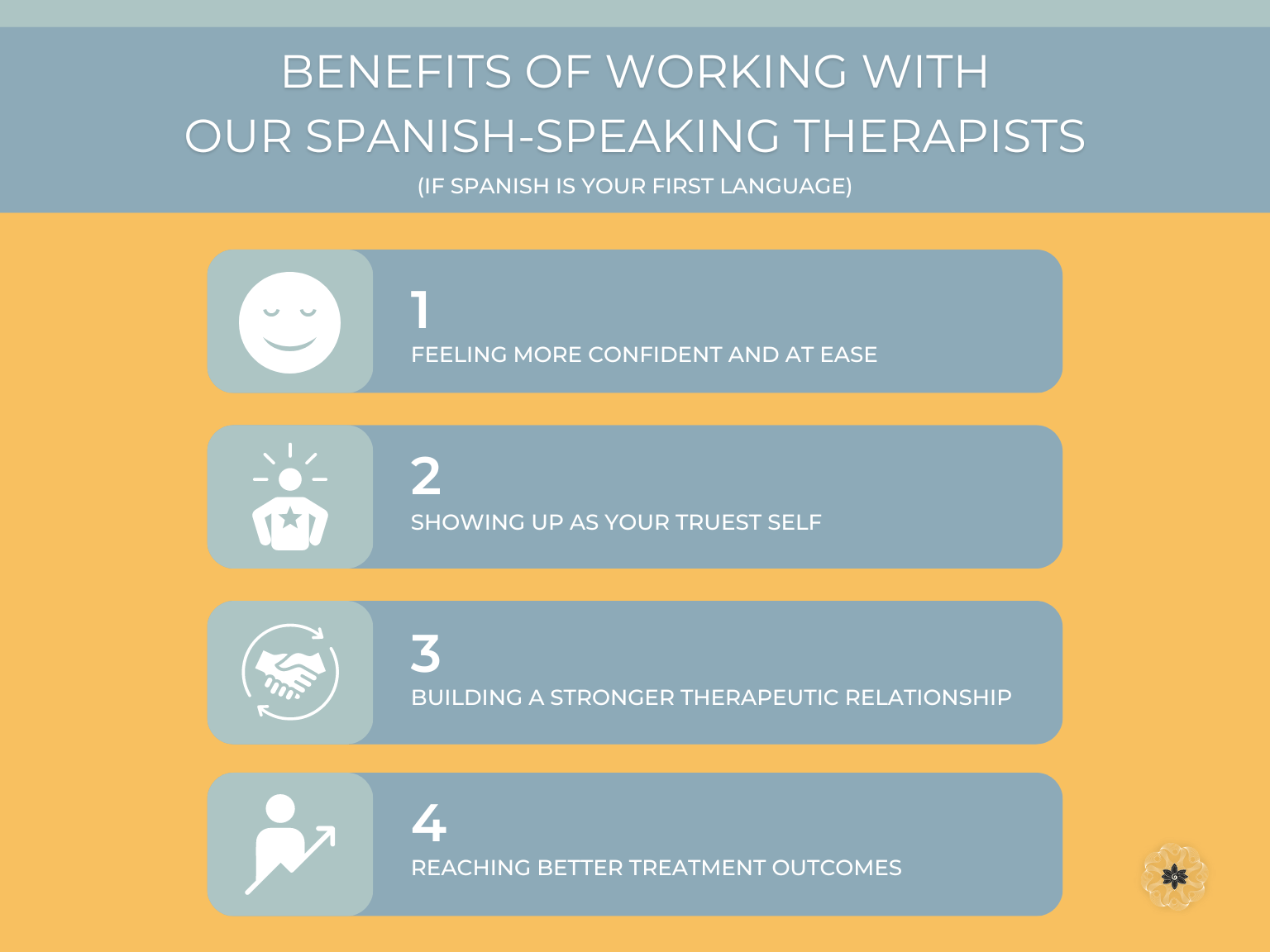 Although Hispanic or Latino individuals represent about 18.9% of the U.S. population, only 6.18% of the psychology workforce is Hispanic.  And merely 5.5% of U.S. therapists can provide mental health services in Spanish.  So there's an evident shortage among us.
Why is working with a Spanish speaking therapist important?  Sharing your story in your first language can make you feel more confident and at ease.  It allows you to show up as your truest self without relying on your "English-speaking" persona or struggling to find the right words to communicate.
And while a therapist doesn't need to be Hispanic to speak Spanish, having cultural awareness and language skills may help them build a stronger relationship with you and reach better outcomes.
We get it.  And we don't want to add more obstacles to an already challenging step: seeking help.  So we've made it a point to hire multicultural clinicians who offer counseling services in different languages.
Many of our therapists are fluent in Spanish and deeply rooted in their Hispanic heritage.   Their doors are open to Spanish speaking individuals, couples, families, and groups of different backgrounds and identities.  This includes U.S. natives and immigrants from all over the world.
Anxiety
Occasional anxiety is harmless and quite common––it may even encourage you to stay alert and productive.  But severe and long-term symptoms can prevent you from functioning and enjoying your life.  Anxiety therapy will support you in managing distress and learning practical coping skills to recover serenity.
 Panic Attacks
Panic attacks are frightening experiences accompanied by depleting physical and psychological symptoms (e.g., rapid heartbeat, shortness of breath, fear of losing control or dying).  Therapy can help you understand your triggers and related issues, reframe negative patterns, and develop strategies to address your symptoms.
 Depression
Depression can happen due to a major event, loss, or medical condition, or simply arise without an apparent cause.  It may bring profound emptiness, pain, lack of motivation, and hopelessness.  Through therapy, we will guide you to find grace, self-worth, and meaning to surf the waves and achieve a healthier life.
Relationship Problems
We thrive in connection.  So when we have difficulty initiating, maintaining, or building meaningful relationships, we may struggle.  Let's collaborate to navigate any hurdles in your relational path and set the foundation for balanced and healthy bonds.
Obsessive-Compulsive Disorder (OCD)
Repeated and intrusive thoughts that cause anxiety (obsessions) can spark compulsive behaviors to find ease (compulsions).  Yet, this comfort is usually temporary and can become a damaging cycle.  Therapy allows you to explore your symptoms, confront your triggers, and prevent you from acting on your compulsions.
Trauma and Post-Traumatic Stress Disorder (PTSD)
The pain of abuse, loss, severe incidents, or discrimination may have left devastating footprints on your journey––keeping you from experiencing life to the fullest.  Trauma therapy can aid you in unpacking and processing unresolved events to gain long-term relief.
Types of Therapy our Spanish Speaking Therapists Provide

At Madison Park Psychological Services, we are proud to house counselors trained in multiple therapeutic modalities. 
The goal is to connect you with the right therapist and the method(s) that better suit you.  We will customize treatment to your whole being, which sometimes means pulling from different modalities or adjusting interventions as you progress.
Our Spanish speaking therapists are qualified to provide the following types of therapy:
Cognitive-Behavioral Therapy (CBT)
Cognitive-Behavioral Therapy is a short-term, effective modality that reviews how your thoughts, emotions, and behaviors impact one another.  Through CBT, we can help you challenge and reframe limiting beliefs, break free from harmful patterns, and adopt healthier habits.
Dialectical-Behavioral Therapy (DBT)
Dialectical-Behavioral Therapy helps you build fundamental skills to address mental health challenges and improve your life.  These include mindfulness (being present without judgment), distress tolerance (acceptance and stress management), emotion regulation (navigating feelings and impulses), and interpersonal effectiveness (social and relational skills).
Acceptance and Commitment Therapy (ACT)
Acceptance and Commitment Therapy aims to build greater psychological flexibility by promoting six core processes: acceptance, defusion, contacting the present moment, self as context, values, and committed action.  ACT can support you in handling mental difficulties, discovering your purpose, and defining your values and goals.
Psychodynamic Therapy
Psychodynamic therapy involves a process of deep self-exploration and discovery.  We will travel through your history, thoughts, feelings, wants, and fears to recognize damaging cycles, solve conflicts, and heal emotional wounds.
Holistic/Body-Mind-Spirit Therapy
Through body-mind-spirit techniques like breathwork, acupressure, and mindfulness, holistic therapy seeks to integrate all the pieces of your being to enhance your health.  You will foster awareness, gain compassion, and learn practices to tackle current and future hardship.
Working With Our Spanish Speaking Therapists
Our Spanish speaking therapists provide psychological assessments and other services to teens and adults in NYC and throughout New York via online therapy.
You can book an initial consultation via phone or video to discuss your situation and how we can help you.  If you'd like to move forward with us, we will pair you with one of our Spanish speaking therapists who aligns with your needs, values, and goals.
Next, we'll schedule regular in-person or online sessions to proceed with treatment.  Although our team is trained in different therapeutic orientations, our overarching approach is individualized and holistic.  We will prepare a plan that considers your mind, body, and spirit, which may include referrals to wellness services and medication management. 
Book an Appointment with One of Our Spanish Speaking Therapists Today
If you seek a therapist who understands your cultural background and provides quality care in your native language, you are in the right place.
Contact us with any questions or concerns.  We are happy to assist you!
Ready to begin your therapy journey?  Call 212-506-5935 or book an appointment with one of our therapists to get started!
Call or Email to Book an Appointment with a Spanish Speaking Therapist Today!
We'll design an effective, individually tailored treatment to help you reach optimal health and well-being.